MASTER CLASS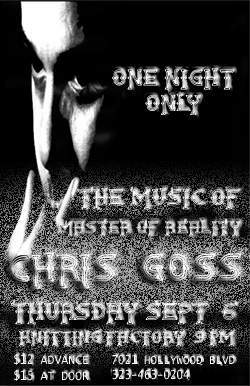 Chris Goss And Friends: an all-star cast joins the Masters Of Reality mainman for a very special night
The Knitting Factory, Los Angeles
Thursday, September 6
IF YOU'VE never heard of them, it would be easy to mistakenly believe that Masters Of Reality would sound like one of the heaviest bands ever. After all, they tf/tfborrow their name from the third Black Sabbath album. But, äs big, bald Masters mainman Chris goss proves tonight, more than anything eise his band's songs are abojut innovation, mystery and, most of all, a feel for melody of the timeless variety. Tonight, in this rare solo show, Chris is excited at the prospect of hearing his mates play some of his tunes, and frankly so are we.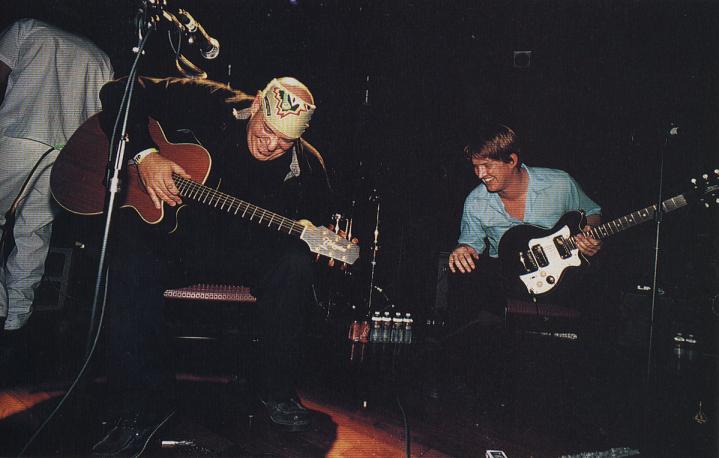 Chris begins the show alone with his electric guitar cranked up, and performs '100 Years (Of Tears On The Wind)'. Even without the lush Instrumentation of its Studio counterpart, it remains stirring and expansive. "This is just a way for me to play with Some friends that l don't get to see too offen," goss explains when he's finished with the z first tune. And from there on in it's one z highlightafter another.Talented 2 musicians drift on and off the stage | with each song, including Queens Of 3j The Stone Age's Josh Homme, Nick o Oliveri and Dave Catching, former * Screaming Trees vocalist Mark Lanegan, A Perfect Circle's Troy Van Leeuwen, and many others.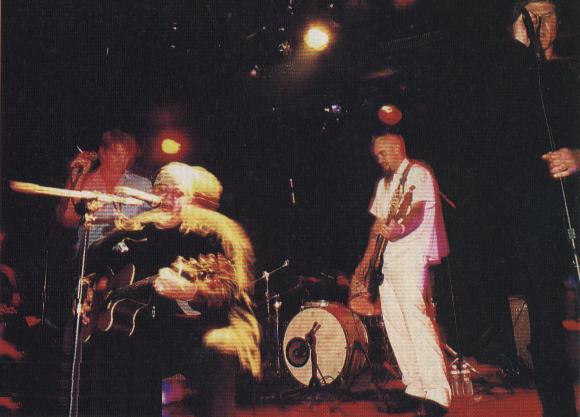 While there are broad smiles on many of the players (except for the ever-taciturn Lanegan), there isn't too much drunken musicianship. Indeed, with Chris being such an inspiring figure to the younger players, Josh and many of the others play with blinding brilliance. Songs from the 'Welcome To The Western Lodge' album dominate the set-list, which is disappointing for those who adore the Masters' self-titled debut. What makes up for this is the clutch of songs from the upcoming Masters LP, including 'Roof Of A Shed' co-written by Chris and Josh. Still, the highlight is the spooky, jazzy 'Rabbit One' (from 'Sunrise On The Sufferbus'). Chris laughs, breaking the mood, and calls the whole shebang "a great big incestuous musical mess". Not that that'sa badth'mg.
This is especially true when both Josh and Nick are on such fine form, with Nick singing lead vocals on a newie called 'Gonna Leave You' and a rousing finale of the unreleased 'Deep In The Hole' and the perennial closer 'John Brown'. The wildly applauding audience understand that they've just witnessed something rare and special: originality is one thing, but to turn it into beautiful music is a rare trick indeed.